Submitted by

Labattack

on Wed, 2018-02-14 17:19
H910 Harmonizer plugin is the only one not showing up in Mixbus 32C-4 (Harrison DAW) during plugin scan?
It is located on my ILoK together with other products from different vendors like Soundtoys and Slate Digital.
Any suggestion? 
I'm running MacOS Sierra 10.12.6 and
Eventide helped to define the sound of many of the effects we take for granted nowadays, and this bundle can bring all of that mojo to your mixes as well.
—Joe Albano
To get the lowdown on the H910 modeling process, we spoke to Eventide DSP engineer Dan Gillespie, who spearheaded the H910 plug-in project. As Eventide's first pitch-shifter...it's an effect that has made its mark on a variety of records and genres.
Quirky, exotic and a bit unpredictable, the H910 just sounds beautiful...It's a plugin that really favors experimentation and that can deliver some unexpected results, so don't be afraid to try on things you wouldn't initially expect to work.
FOR IMMEDIATE RELEASE
F**k with the Fabric of Time with the Eventide H910
Native Plug-in On Sale for $99 Until 7/31/16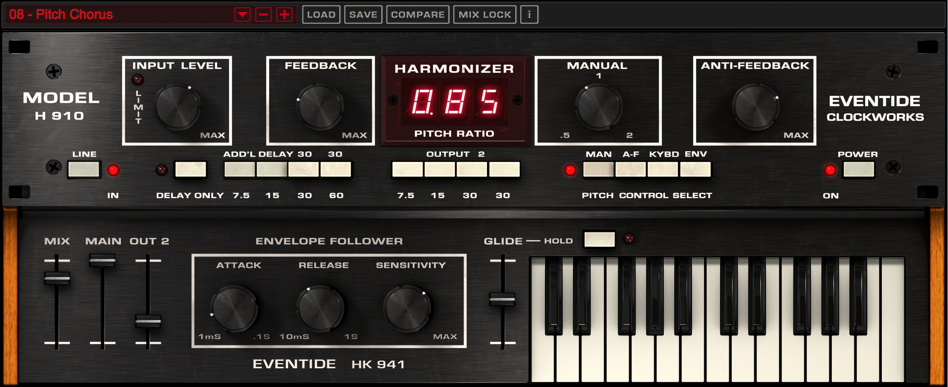 I'd forgotten just how much fun the H910 could be, because of—its mostly lo-fi nature. I always missed the funky effects it could deliver, particularly the "bell tree" effects where a pitch spiraled upward or downward, with the spiral lasting as long as the feedback amount you set. The H910 not only brings back that type of sound, but more.
We just love Laurie Anderson, the revered avant-garde artist, composer, musician and film director. She was kind enough to chat with us about the H910 Harmonizer. A long time user of the original hardware, she was very excited to find out the plug-in was recreated to sound just like the original (glitches and all). 
Submitted by

garbeaj

on Wed, 2016-05-25 14:00
Hello all! I'm a super novice H9 Core user and I'm an old guy (44) trying to navigate this incredibly complex pedal.
I'm attempting to figure out of there is a way to assign a button on the H9 stompbox to turn off the delay function in the H910/H949's #3 preset Women In Love for Van Halen's "Women In Love" song. The delay is only present in the harmonic tapping segment of the intro and then the delay is turned off and the rest of the intro is just straight picked arpeggios with no eighth note delay following each note.
Superb sounding with enormous sonic possibilities. Well-rounded and diversified, with useful mixing tools besides the legendary effects...H3000 Factory and UltraReverb are two of the coolest effect plugins ever made!