Submitted by

fadersolo

on Wed, 2021-03-24 18:21
My Pro Tools Expansion Card for the H9000 just showed up in the mail. I followed the installation instructions (a set of 6 photos). After powering up, the unit doesn't seem to recognize that I've got an expansion card installed. What am I missing here?
The H3000 Factory plug-in compares very favourably to the original hardware... It's a joy to have these effects available to users of a wider range of DAWs and at a price point which brings it within reach of even moderately serious users.
Tverb's Meistersaal room simulation is full of character, and being able to sculpt its intrinsic nature in specific ways greatly expands this plug-in's usefulness. 
We just love Laurie Anderson, the revered avant-garde artist, composer, musician and film director. She was kind enough to chat with us about the H910 Harmonizer. A long time user of the original hardware, she was very excited to find out the plug-in was recreated to sound just like the original (glitches and all). 
...If you're looking for a reverb that gives you high-quality algorithms, impressive flexibility, and a built-in stereo delay and compressor, not to mention a huge selection of presets, it's an excellent choice. 4.5 Stars out of 5.
 I already love it...Tverb is a refreshing new look at the making of a plugin for emulating a production technique instead of trying to emulate a piece of gear and I like it for that. The sound quality of Tverb is awesome and sounds so lush. 
Visconti, Eno, and Bowie were known for doing very unconventional things in the studio which is why this plugin has such character. It's interesting to see and hear how a plugin can be inspiring, especially in a world of endless plugins
FOR IMMEDIATE RELEASE
Eventide Teams with Tony Visconti to Create a Powerful New Plugin
Tverb Takes an Iconic Effect to the Next Level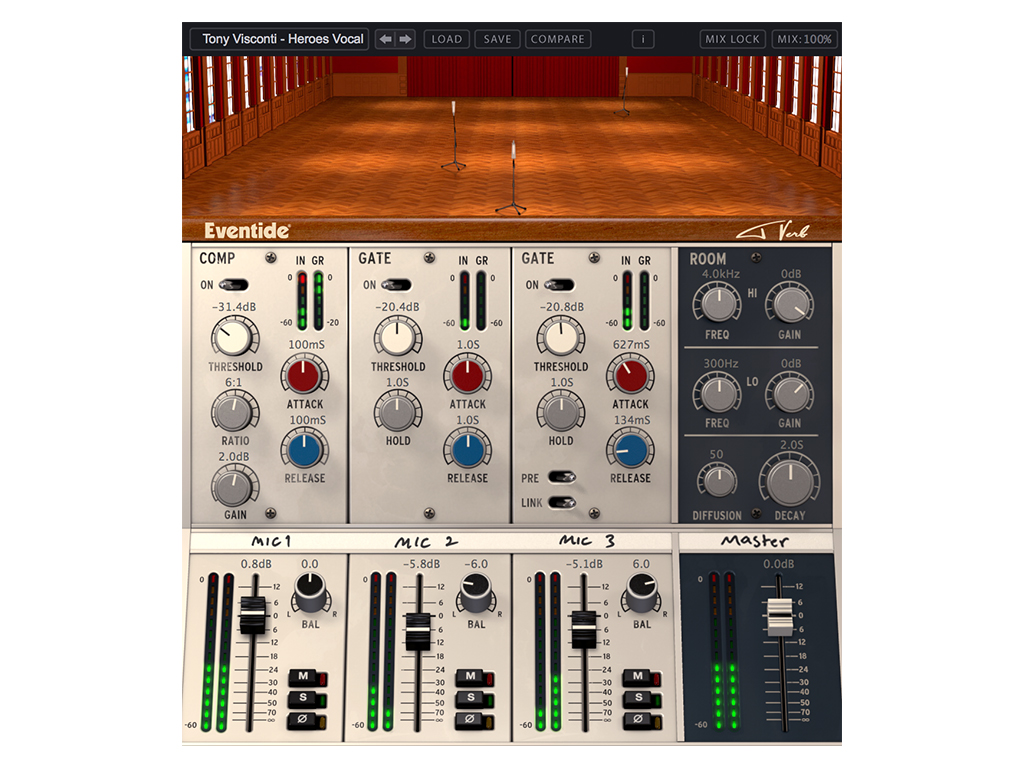 [Omnipressor] is the most twisted, aggressive, nasty, and yes, seductively versatile dynamics control device I've used...The Bass Cut switch is way cool for kick drum fans, as it attenuates bass frequencies going to the compression control circuit.