I'm an artist trapped in an engineer's body. My current occupation is "feral engineer".
At one time I owned an Orville - Here's a recording of it:
https://youtu.be/jzgZx1o8ntY
AMPS
Fender Twin Reverb - 1979 Silver Face
Line 6 15 watt amp (blech)
Fender Ultimate Chorus Amp bought in 1999 - much easier to carry than my Twin Reverb
Orange Crush RT35 Amp (2015) - I have two of these amps
Pignose amp (a random roommate gave that to me when he moved out)
RECORDING
Steinberg UR44 Audio interface (used with MacBook Pro + Cubase AI)
Yamaha HS8 Active Studio Monitors
Shure SM58 (two)
Tascam Portastudio 414 mkii (4-Track cassette)
AKG C414 XLS (two)
Shure KSM141 (two)
V-Tech VT-1030 Dynamic Microphone
PEDAL THINGIES
RAT distortion (bought during the 80s)
BOSS - RC-30 (looper)
Ernie Ball Stereo Volume Pedal (with some weird panning switch on the side)
Ernie Ball 25k Volume pedal (for expression - used with H9)
Ernie Ball 25k Volume pedal (for the other Eventide H9)
Roland GR-09 Guitar Synthesizer (with a hexapickup)
Morley Bad Horsie 2 (Wah)
Eventide H9 Core (2015)
Eventide H9 Max (2015)
Digitech 2120 (bought in 2000?)
Boss Guitar tuner TU-12H (extended low range for that B-string)
TC Electronic PolyTune 2 Mini Polyphonic Tuning Pedal (one)
TC Electronic PolyTune Clip - Clip-on Polyphonic Tuner (I probably have four)
SYNTHESIZERS & KEYBOARDS
E-mu Proteus 2000 (synthesizer module)
STRING INSTRUMENTS:
Taylor 414ce - Built on Sept. 14th, 2015 - full gloss & ES2 (purchased May, 2016)
Ibanez 7 string S-Series S7420 (bought in 2000)
Gibson ES-335 (made in 1997)
Kramer (st-200?? Not sure) - bought during the 80s
Ventura classical - inherited (first guitar got during the 80s)
Eastman Grand Auditorium Acoustic AC222CE - bought in Aug of 2015 - 100% responsible for re-sparking guitar interest
Conqueror acoustic - bought for $30 used during college years - neck split - used two wood screws to fix - continued to play it that way. Has hole on side - patched with wood screws and a piece of plastic.
Fender Mexican Stratocaster (2001)
ESP/LTD D-5 - five string bass (eBay special $300 - for recording)
Hello Kitty Guitar (Squire)
Gibson Les Paul custom 1992 Cherry Sunburst
These two pedals are my latest Eventide purchases - they are the Eventide H9 Core (left) and H9 Max (right). Originally, I had only the H9 Max pedal, but wanted lush reverb to accompany other H9 effects. I was highly tempted to choose a different brand - just for the sake of experiencing another pedal - however the small size and Bluetooth connectivity of the Eventide H9 Harmonizer was just too cool to pass up. I've said this a few times now, but I never would have expected to enjoy using an app with my music - but the iOS app works beautifully. Eventide got it right. Now, I suppose I *could* add a dedicated reverb (such as the Strymon BigSky) at a later time - if I really want. Then, I'd have three amazing pedals at my feet.
What a proper living room ought to look like.
Eventide H9 Max and H9 Core
Eventide H9 Max and H9 Core
---
Some of my gear
Some of my gear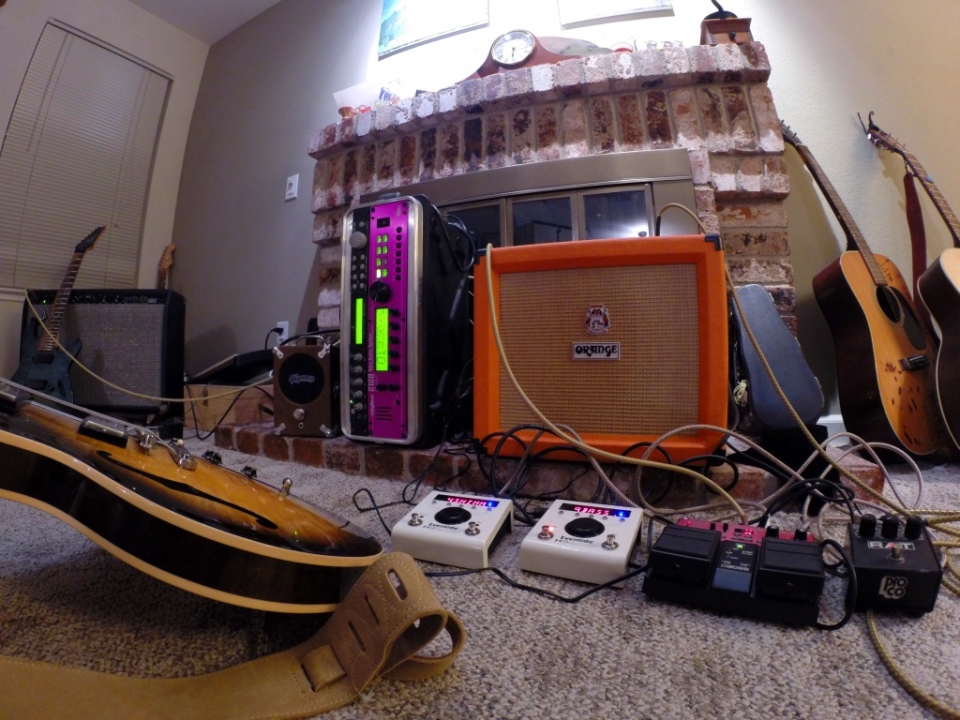 ---