September 15, 2018 at 9:45 pm
#150094
hendrik7
Member
sjgowdy wrote:
This happened to me too! I was also stumped for a while, reinstalled the app a couple of times, but no difference. Then I inadvertently rotated my phone to landscape mode and hey ho, the full alphanumeric keyboard appeared! Possibly another Android glitch?
Mysteriously the alphanumeric keyboard appeared now! lol
I tried several times … I closed the app, I opened it again and the last time, I left a random number in the username. When I came back, the numbers were still there and the keyboard appeared!
Show More...
I'm trying to login to the app and it's only accepting a number. The alphanumeric keyboard does not appear to enter letters as well.
Is someone having the same problem? Do you know how to solve it?
Android v7.0
App H9 Control v3.2.2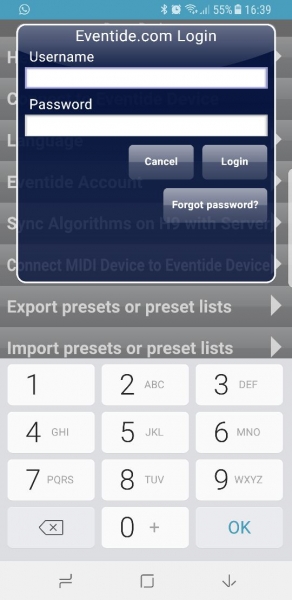 Thanks guys! Came here to post about this. Just set up the app on my new Samsung S8 and only got the numberpad. When flipped the phone to landscape, I got some funky keypad I've never seen on a phone before and it didn't work properly, I flipped it back to portrait mode and voila, the normal keyboard showed up and I was able to put in my password and username. Definitely a bug.
Show Less...