Unleash Chaos
Take Chaos to the next level with Generate. Developed by Newfangled Audio, Generate is a marquee polysynth combining several revolutionary chaotic oscillators with all the features you'd expect in a first-class synthesizer. Create beautifully complex pads, warm moving keys, jittery sequenced basses, out-of-control leads, and 'oh my God' textures.
New v1.3 Available
(NEW!) Wavefolder based on a bent model of the Buchla 259 Algorithm
(NEW!) Modulatable effects allow the synth to modulate up to 13 effects parameters
(NEW!) Step Sequencer with randomization and a pulse width output
Features
Novel chaotic oscillator has 8 types:

Double Pendulum, Vortex, Pulsar, Discharge, Turbine, Helix, Crescent, and Magma

5 Wavefolders based on the Buchla 259 Complex Waveform Generator, Fractals, a special Animated Equation, and our own Saturate algorithm
Low Pass Gate based on the Buchla 292 adds controls for POLES and RESONANCE
Modulate all controls with MIDI/MPE, two Looping Envelopes, two LFOs, Sample and Hold/Random, and a Step Sequencer
Innovative modulation UI allows modulation over almost every control from the main page, allowing up to 1440 modulation routings in a single pane
Innovative EQ, Chorus, Delay, Reverb, and Limiter effects to turn the sounds into magic
MPE support allows amazing control from expressive controllers
All mod sources have multiple outputs generated at once, and they can modulate each other, just like a modular synth
Animations! The Double Pendulum, Wavefolder, and Low Pass Gate modules each have animations to show how each module responds to your input, and to modulation
Color Schemes! Don't like the look of it, change it
Resizable UI
Over 900 Presets, including many from renowned artists
New preset librarian adds Categories, Tags, Descriptions, Artist links, Favorites, and Search to all presets.
Multi level undo/redo for easier workflow.
True A/B comparison for making better mixing decisions.
SET AS DEFAULT button allows you to save any settings as your default.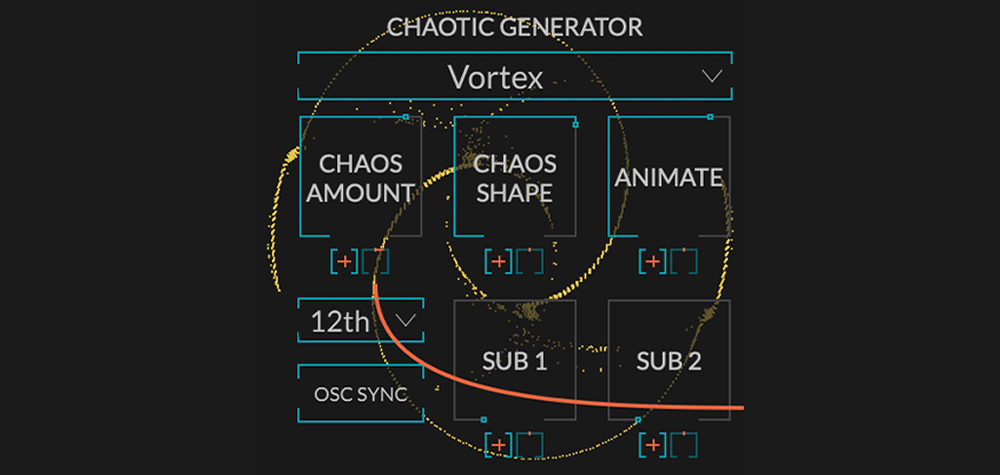 Create the Chaos
Generate is based on a set of chaotic generators. What initially looks like randomness contains underlying patterns, interconnectedness, constant feedback loops, repetition, self-similarity, fractals, and self-organization. Each of Generate's 8 chaotic generators brings out these underlying patterns and creates an oscillator that can smoothly fade from a sine wave to total chaos, with an expanse of territory to explore in between. The musical textures created include distortion, harmonics, grunge, static, and noise—All of which can be predictably or unpredictably modulated.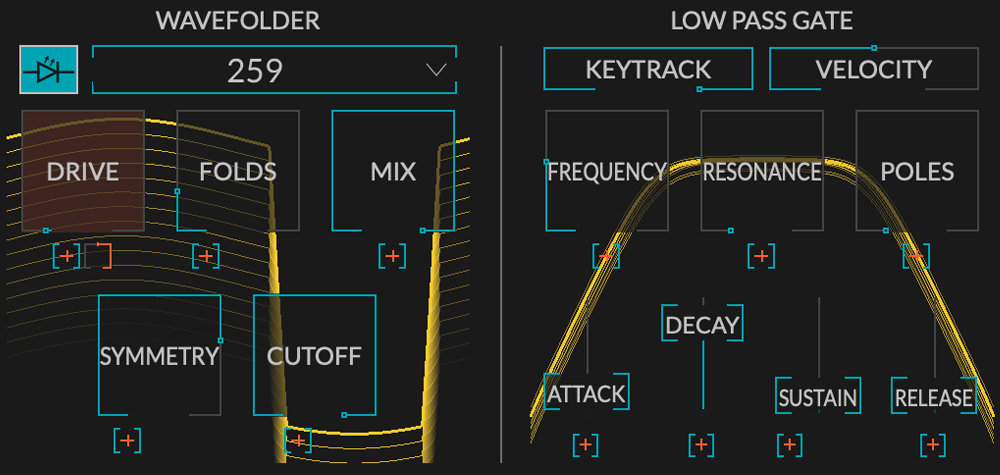 Control the Chaos
Generate's chaotic generators are routed through your choice of 5 wavefolders; Buchla 259, a Model Bent version of the Buchla 259, Saturate (from our popular mastering plugin), or novel Animated or Fractal wavefolders, each adding unique overtones. It is then followed by a low pass gate inspired by the ideas of Don Buchla. These modules combine to create a versatile and musical voice with its own unique flavor. (Model Bent is link)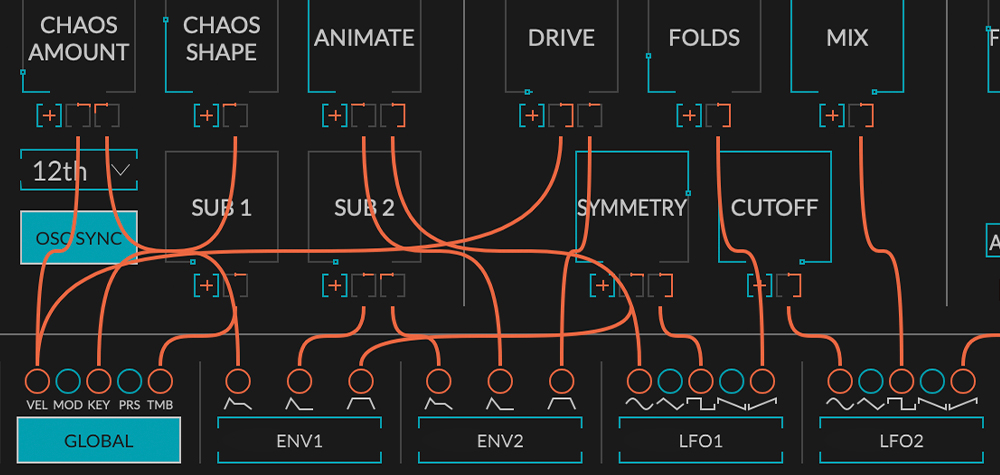 Modulate the Chaos
Almost all parameters in Generate can be modulated by a combination of two Envelope Generators, two LFOs, a Sample and Hold/Random generator, an 8 Step Sequencer, and MIDI and MPE sources. The innovative modulation interface allows you to easily and quickly patch any combination of sources to any destination, creating sounds that move, and which move you.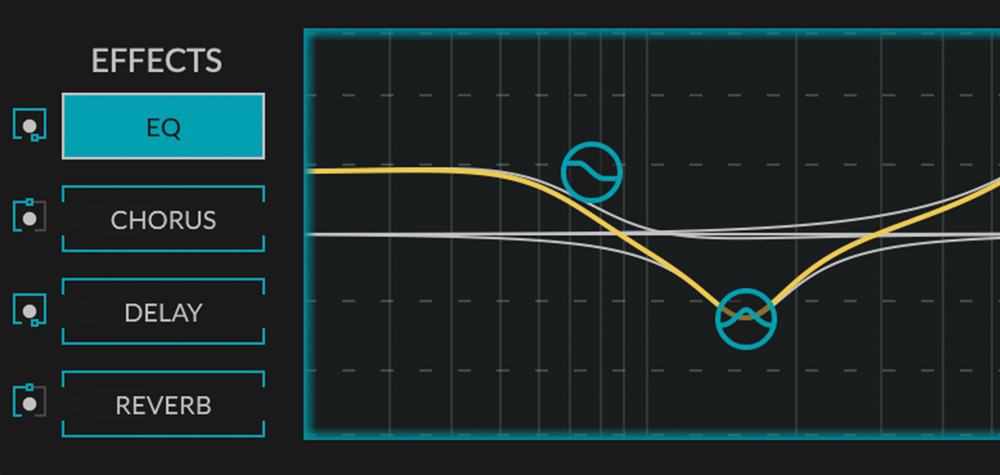 Effect the Chaos
Generate's voice is followed by an unparalleled EQ, Chorus, Delay, Reverb, and Limiter, all to launch your chaotic sounds into outer space or right into your listeners' faces.
Over 900 Presets Including…
Chris Tabron (Beyoncé, The Strokes, Die Antwoord)
Count (Radiohead, Tycho, DJ Shadow, Zoe Keating)
Chris Carter (Throbbing Gristle, Chris and Cosey)
Matt Lange
Adam Schatz (Landlady)
Anthony Baldino (Interstellar, Ex-Machina, Avengers: Infinity War)
Laurie Spiegel (Composer, The Hunger Games, has music in space!)
Jacob Shea (Planet Earth, Inception, Battleship)
Robert Dudzic (Ready Player One, Spiderman: Homecoming)
Matthew Simms (Wire, It Hugs Back)
Sebastian Arocha Morton (ROCASound, Iron Man 2)
Jacob Bergson (Nerve, Rubblebucket, taut)
Matthew Wang (Zooey's Extraordinary Playlist, Centigrade)
So Wylie (Gimlet, Mogul, The Habitat)
Kasson Crooker (Symbion Project, FreQuency, Amplitude)
The Unfinished (Dune, No Time To Die)
Robert Dudzic (Spider-Man, Stranger Things)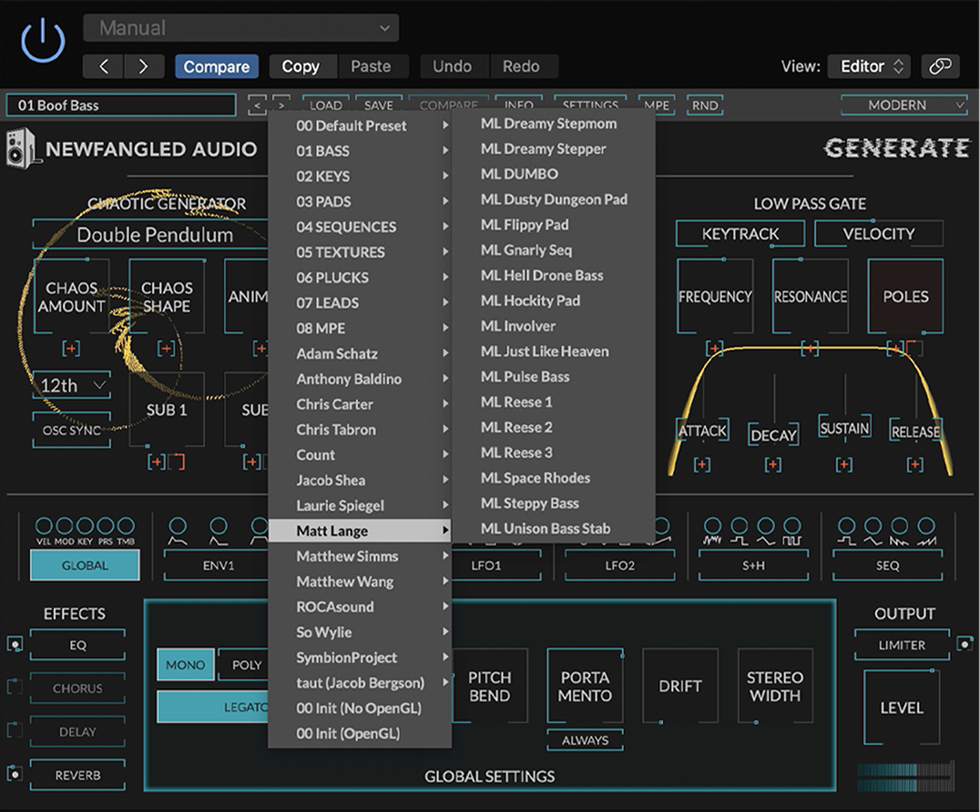 About Newfangled Audio
Newfangled Audio was started by former Eventide Engineer, Dan Gillespie, in order to research and develop signal processing techniques that are new to the field of professional audio.
Generate is created by Newfangled Audio and distributed by Eventide.
Combines richness and diversity of sounds with a simple interface.
From FM-type sounds with magical bells to bass on steroids capable of making your studio tremble, including progressive pads, Generate succeeds in combining richness and diversity of sounds with a simple and easy-to-use interface.
Audiofanzine
Artists Using Generate
Anthony Baldino
Interstellar, Ex-Machina, Avengers: Infinity War, Venom
Chris Carter
Chris & Cosey, Throbbing Gristle
Count
Radiohead, The Rolling Stones
Justin Meldal-Johnsen
Nine Inch Nails, Young the Giant
Kasson Crooker
Symbion Project, Freezepop
Robert Dudzic
TRYNITY HD/FX, RAID & Cinema Sound Tools
Robert Venable
Twenty One Pilots, Kelly Clarkson, Megadeth
Sebastian Arocha Morton
Sting, Chaka Khan, Seal
Paul "Willie Green" Womack
---
Platform Compatibility
Windows 8+
AAX 64-bit, VST2 64-bit, VST3 64-bit
macOS 10.9+
AAX 64-bit, AU 64-bit, VST2 64-bit, VST3 64-bit
---
An iLok account is required, but no physical dongle is necessary.
We test our desktop plug-ins in Ableton Live, Cubase, FL Studio, Logic Pro, Pro Tools, and Studio One.
Our plug-ins should work with any compatible host, however we recommend you
download a 30-day demo
to check before buying.