To obtain repair on a discontinued product, please contact one of the following repair facilities. If you repair vintage Eventide gear and would like to be listed here, contact us.
Please note that these folks do not work for Eventide, nor are we responsible for their work.
Submitted by

wvought

on Sun, 2020-05-24 14:59
Is there a way to change the default location of the presets?
IOW I'd like to change the default folder in which the H3000 VST looks for the preset files.
Thanks.
Below is a breakdown of the different models of the H3000 effects processor.
In this new blog series, composer and electro-acoustic violist, Martha Mooke, will be exploring multifaceted ways of using the H9. Keep an eye out for videos on violins, violas, cellos, saxophones, electronic winds and brass, voice, synths, percussion and more!
Submitted by

Chrysidis

on Thu, 2018-04-19 08:09
Is it possible to replicate the program RICH CHORUS (242, 527)?
Looking at the hardware unit I see some algos called glide, and I also think it uses 6 delays. So I'm not sure it's possible. Can you enlighten please?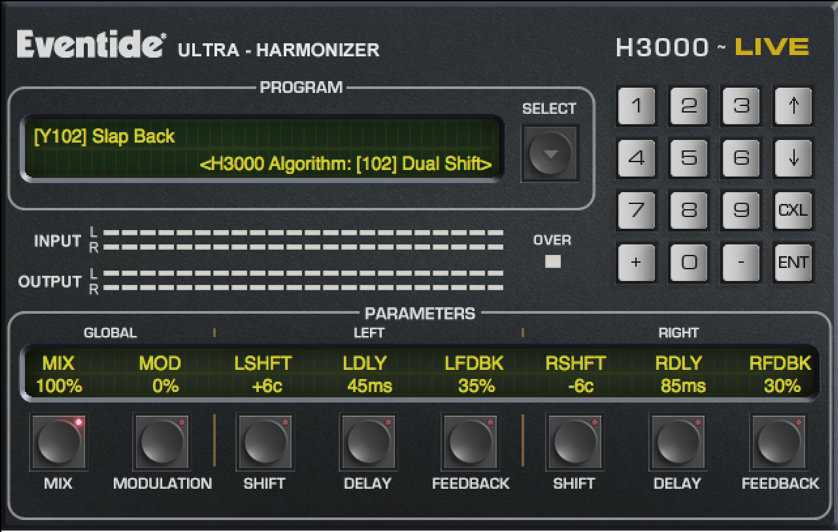 Classic micropitch and delay effects included with V1.5 upgrade
Submitted by

rudejude

on Sat, 2016-10-15 12:48
Hello everyone!
I have an amazing eventide H3000 B (with D and S/E expansions) and I have a problem with the output level. Basically, when the machine is in bypass mode (or off), everything is fine. When I switch the bypass function, I have almost no sound, even if I turn all the knobs of my soundcard and speakers to the max, i barely hear the track and it has no FX from the eventide on it. I tried several preset of the eventide, same result each time.