The H3000 Ultra-Harmonizer® is a family or products based around a multi-purpose programmable, digital audio signal processor.
The H3000 is capable of creating effects ranging from full stereo pitch changes, delays, reverbs, and more.
Features
After its initial release, the H3000 was released in various models:
H3000
H3000-S
H3000-SE
H3000-B
H3000-B/LT
H3000-B+
H3000-D/SX
H3000-D/SE
H3500-DFX
H3500 DFX/E
For information regarding differences between the products, please check the manual.
H3000 Models
Model
Algorithms
Presets
H3000
100-110
200-257
H3000S
100-110
200-257, 700-747
H3000SE
100-112
500-699
H3000B
100-113
300-363, 400-415
H3000KS
100-121
200-257,300-363, 400-415, 500-699, 700-747
H3000 D/SX
100-111,116, 122-123
150-199, 200-257, 259-284, 286, 370, 373, 380, 384-385, 397, 399, 418, 486-487, 496, 499, 700-747, 800-899, 987-988
H3000 D/SE
100-112, 114-119, 122-123
150-199, 200-257, 259-284, 286-298, 366-399, 416-423, 486-487, 496-499, 500-699, 700-747, 793-797, 799, 800-899, 975-999
H3000B+
100-113,116,
122-123
300-363, 400-415, 800-899
H3000B/LT
100-112, 116, 122-123
300-330, 332-363, 400-415, 800-899
H3500DFX with HS322 (short Sampler)
100-112, 114-123
150-199, 200-257, 259-284, 286-298, 366-399, 416-423, 425-493, 496-499, 500-699, 700-747, 750-786, 793-799, 800-899, 975-999
H3500DFX/E with HS395 (long Sampler)
100-112, 114-123
150-199, 200-257, 259-284, 286-298, 366-399, 416-423, 425-493, 496-499, 500-699, 700-747, 750-786, 793-799, 800-899, 975-999
H3500B-DFX with HS322 (short Sampler)
100-123
150-199, 200-257, 259-284, 286-298, 300-363, 366-399, 400-415, 416-423, 425-493, 496-499, 500-699, 700-747, 750-786, 793-799, 800-899, 975-999
H3500B-
DFX/E with HS395 (long Sampler)
100-123
150-199, 200-257, 259-284, 286-298, 300-363, 366-399, 400-415, 416-423, 425-493, 496-499, 500-699, 700-747, 750-786, 793-799, 800-899, 975-999
Steve Vai Presets
The "Steve Vai" presets are 700-747
H3000 Photos
H3000 S Advertisement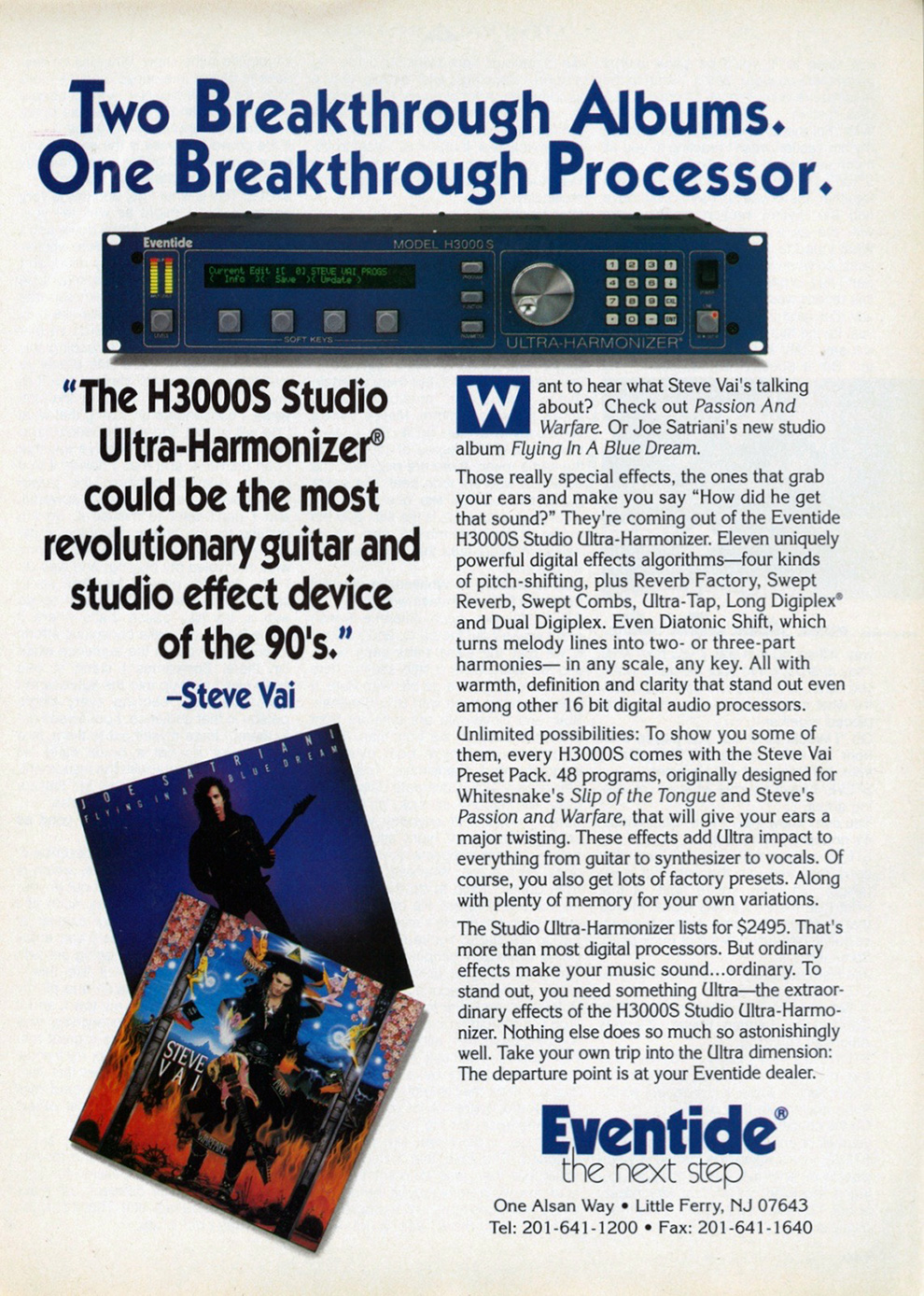 Artists Using H3000
David Bottrill
Tool, Smashing Pumpkins, Muse, King Crimson
J.C. Losada
Carlos Santana, Jon Secada, Shakira, Ricky Martin
Vance Powell
Jack White, Sputnik Sound
Justin Broadrick
Godflesh, Jesu, JK Flesh, Napalm Death
Robert Venable
Twenty One Pilots, Kelly Clarkson, Megadeth
Documentation