Reverb as an instrument unto itself might seem far-fetched, but Blackhole fetches far further than your average reverb unit...The sound quality is simply outstanding, all the essential features are there, and it invites a degree of painless creativity that standard reverb units just can't match. 
From cavernous depths to huge spaces or otherworldly soundscapes this plugin will take you there in no time and would probably work a treat on a dubstep snare too...and coming from Eventide you know it's got to sound good and it does for sure on most anything you slap it on be it drums, pads or leads.
Submitted by

mrwolf

on Tue, 2016-04-05 17:19
I downloaded the Blackhole plug-in and have it activated through iLok. The plug-in shows up in Logic, but not in Ableton Live 9 Suite. I've tried to rescan the plug-ins folder, restarted Live but to no affect. How do I get the Blackhole plugin to show up in Ableton?
Submitted by

analogjeff

on Wed, 2016-03-30 15:55
Hi...
I'm considering trying/buying Blackhole Reverb, but I'll need to use a wrapper to make it work on my rig ( ProTools 8 on an Intel Mac with OS 10.6.8). My question is whether anyone knows from experience if Fxpansion VST/RTAS Adapter works well/smoothly with Blackhole Reverb. I'd love to know before buying or spending the time trying them...
Thanks a lot!
jeff claus
www.j2filmmusic.com
"Blackhole's unique features make it unlike any other reverb I've got." 
Sonic Scoop recently caught up with Tom Elmhirst (Adele, Amy Winehouse, Beck), where he discusses mixing Adele's "25" album with the Blackhole plugin used on Reverse Guitars. 
It breaks away from the plate-room-hall-chamber paradigm and brings a single algorithm geared towards making reverbs as big as the cosmos...Blackhole is simply a joy to use.
FOR IMMEDIATE RELEASE
Eventide Blackhole: Hollywood's Secret Weapon for Reverb
Plug-in on sale for 75% off until 3/31/2016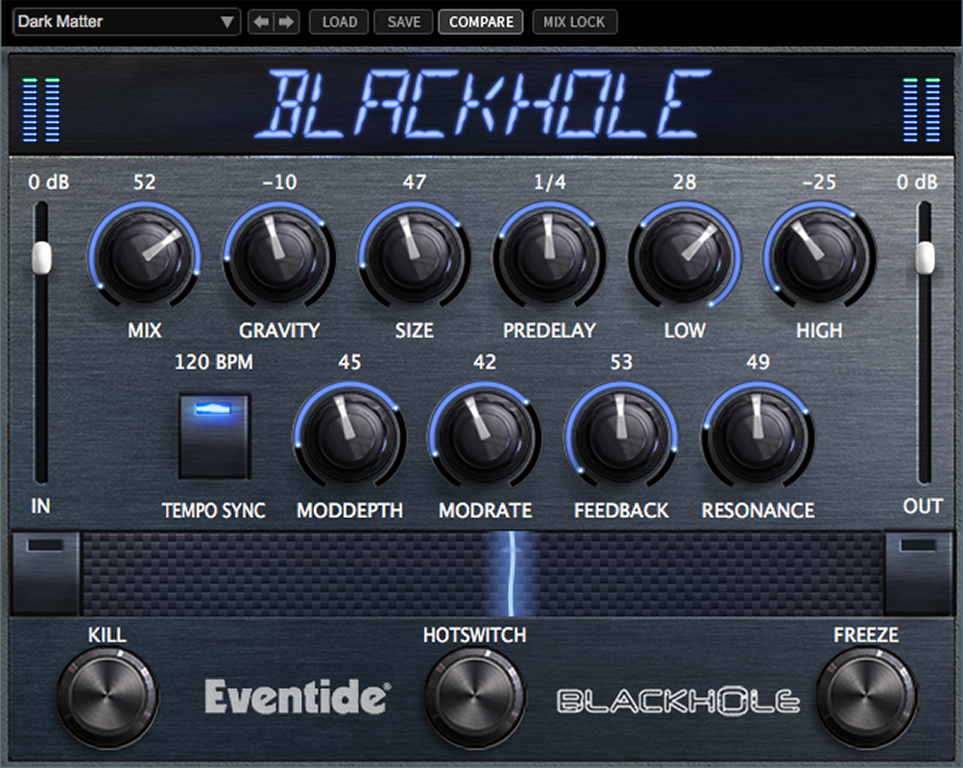 ...For the tall order of designing huge, infinite spaces that fold out into the far reaches of the imagination, Blackhole is arguably the best tool for the job.